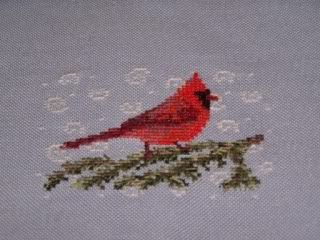 This afternoon, I put the final stitches in Winter Cardinal. Now I just need to figure out how to finish him. But anyway, I am finished with this pattern by Something in Common, so I am going to offer it as a giveaway. If you are interested, please post a comment saying you would like the chart. If more than one person is interested, I'll draw a name, and then mail the chart to the winner. International stitchers, please feel free to respond.
Oh, I left off the border on this design. You can go
here
to see the original design at the Something in Common website.